DOCUMENTING ISOLATION

Isolation can force you to turn inward. Boredom can open up creative outlets. Together isolation and boredom can create projects that push you out of your comfort zone. My first instinct was to shoot the landscape of desolation in downtown Durham as I was primarily a landscape photographer. I wanted to document the emptiness caused by Covid. See images here.

FINDING INTEREST IN STILLLIFE

While mostly shut down at home, stilllife photography seemed the most logical. Being a landscape photographer, it seemed a bit daunting so I turned to familiar items in my household - a glass decanter, an old copper teapot, etc. I learned about using window light to photograph "things" and ended up loving its minimalism! See images here.
BRINGING MY SANTONS TO LIFE

Having discovered the enjoyment of photographing simple items, I tried my hand at my cherished French Provincial clay figurines known as Santons. The figurines are hand made in Provence, the southern part of France. Each one represents a specific villager's trade and they surround nativity scenes at Christmas. My Santons just called to me to be photographed! That lead to them wanting a sense of place which in turn led me to learn to do composites, blending their images onto backgrounds of landscapes where they belonged. And the photography gods rewarded me with a First Place in Color in our area's premiere juried show, the Cary Photographic Artist's Annual Print Exhibition. See images here.

COVID CREATIONS of a PERSONAL SORT

The loneliness of endless days inside spawned two major changes in our lives. Turning my need to create into a large life changing project, I started to design a new house to be built only seven doors down from my local grandkids. Needing a bit more life around the house, we then adopted the sweetest bundle of joy, Puffin! Both afforded me opportunities to use my camera. While they are not fine art photography, they document another kind of art to me - the art of creating something out of nothing and the art of parenting a rambunctious puppy!
Our new house in Raleigh, North Carolina!

LOCAL JAUNTS

Gradually, we began to emerge from our cocoons. Lots of local photography in wonderful fog. Jordan Lake, the Haw River, White Oak Creek... See images here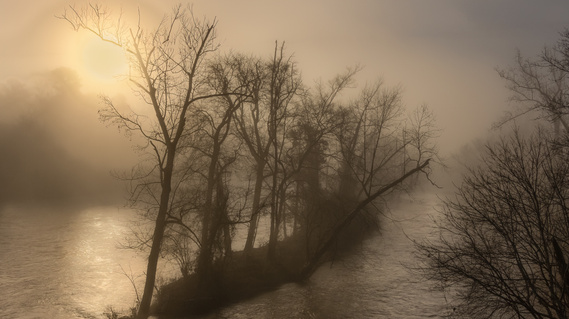 DOWNEAST MAINE
When asked by a talented young photographer-in-training if she could shadow me for landscape photography in fog, what else does one do but say, "Wellll...do you want to go to Maine?!!" And we did! Both fully vaccinated, we each donned our masks for the plane ride and spent a glorious week in fog and rain with the occasional "blue skies, who needs 'em!" Not only did she learn from me but I from her.

COASTAL OREGON
Gradually returning to normal, our photography buddies and we took off for 10 days in Oregon to capture ethereal, dreamy, dramatic images and just to reconnect after a three year hiatus from traveling together. Words do not describe the experience of hearing the pounding of waves, feeling fog encircle you in a hushed silence and marveling at nature's work in creating dramatic mysterious seastacks. Only images can do that!