Lynne Feiss Necrason
At a young age, I became fascinated with making pictures using beautiful light - be they of my elderly grandmother or my young cousins from infancy to teens, or of beautiful foggy Maine harbors and coastlines. After 35 years in real estate, I enrolled in my first workshops with 2 professional photographers. In the fall of 2015 I entered a few shows and was fortunate enough to be juried into each show. And then started the requests for prints. So, it was time to create a website to share my love of this world of photography.
I have come to understand the phrase "it's all about the light" and I have also come to understand how photography is art. My art. My images may or may not represent "reality," but they will represent what I have seen and what I want my viewers to see. All images are "processed" as our eyes and minds interpret and process what is before us. And my images will be "processed" to express my vision of my art. Some may be softened, some muted, some enhanced. That is part of creating art through photography.

When I was but 11 years old, I found interest in the people in my family - my old French grandmother sitting in her chair by the bay window with soft light streaming in on her wise old face and hands. And I delighted in chasing around my twin cousins in their toddler years capturing their discoveries of their new world. Today I cannot put the camera down when I am watching how my young grandchildren play and investigate life as they play so innocently with their dollhouse or so intently concentrate on hitting that baseball down the street. And it is still how I see them see the world. It too is art.

As I develop my photographic vision, I feel the influences from my early years evolve throughout my images. Traveling through the fogs and mists of France, Scotland and England, all being my heritage, I feel a sense of place in these lands. From part of my early years spent in France and New England, I find myself being drawn to mystical, ethereal images with fog, misty harbors, old country roads, old ruins, mysterious castles and awe inspiring churches. Growing up with New England winters where blowing snow blankets the landscape, I am drawn to the serenity that comes with a beautiful snowfall.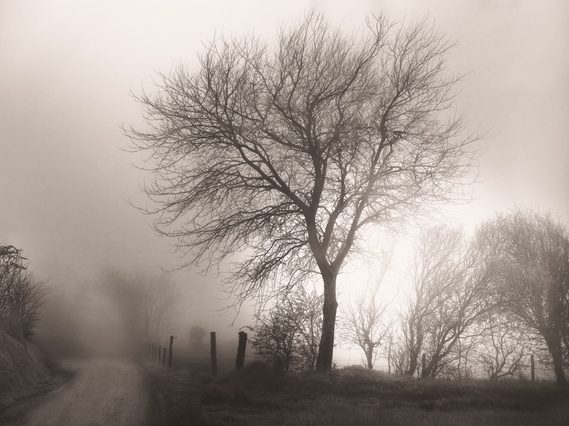 Peace. Quiet. Mood. Atmosphere.
I continue to be inspired to make images I wish to share to bring joy, peace and calm in our tumultuous times. Please enjoy!
An Honor and a Privilege

It has been an incredible honor to be accepted into the 2018 Seeing in Sixes book and again in the 2020 Our Magnificent Planet book published by the renowned LensWork Publishing Co! Needless to say I was elated to have been one of fifty photographers chosen for the 2018 publication and one of three hundred in the 2020 publication. Friends and family encouraged me to apply and I am most grateful to them for that. LensWork has been my inspiration for several years. They feature well known photographers' works as well as lesser known yet talented photographers. The publication itself is of the highest quality using heavy weight silky smooth papers. LensWork also publishes a beautiful bimonthly "magazine" containing interviews and projects of various artists. The editor, Brooks Jensen, is all about photography as art, therefore you won't see camera gear advertisements (nor any ads for that matter!) in these publications. As the Seeing in Sixes title implies, each photographer had six images in his/her project that form a cohesive subject. This is one of my six images created on a foggy morning and worked up to convey a "Tranquil Morning," the title of my project. The images are included on this page.
See below for the image selected for the 2020 Our Magnificent Planet.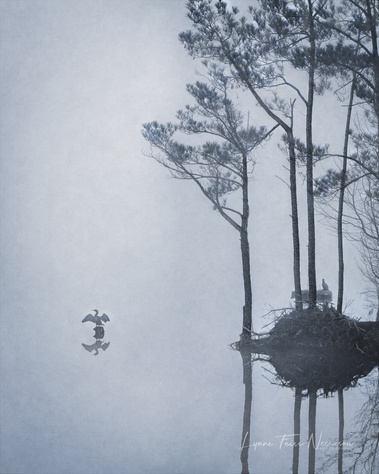 2019 Sylvan Sculptures Exhibition

Lynne's Spring 2019 exhibition was held by Through This Lens Gallery in Durham, North Carolina. The show featured twenty-nine photographs depicting winter trees in various environments such as fog, snow and mist.

The show images are viewable here.
Lynne is due to have another show at the Gallery in November - January 2020. Keep tuned for further information!



Published in 2018 Seeing in Sixes

by LensWork Publishing Co.
One of 50 photographers selected to appear in the
Third Annual Seeing in Sixes Book
For more information see the following link:


Photographer of the Year

Capital City Camera Club, Raleigh, NC 2017

Lynne was honored to received this award which is achieved by an accumulation of points derived from print competitions, judged by certified photography judges and photos of the month, judged by fellow members.
The photograph, "Wolf Girl," on the left was selected as Best Photo of the Year.



Exhibitions and Juried Shows

Juried Shows: Photographs are selected by judges for exhibiting in a particular show.
Cary Photographic Artists Juried shows, 2015, 2016, 2017, 2018, 2019, 2021, 2022 (First Place, color)

311 Gallery

Village Art Gallery, Cary

Litmus Gallery - Merit Award

Click! Pop-Up Exhibits

Exhibitions:
Through This Lens Gallery, "Less than a Thousand Words", The Image Salon

"Bamboo Wind" - a multi-media art production

"Sylvan Sculptures" - Through This Lens Gallery Solo Show